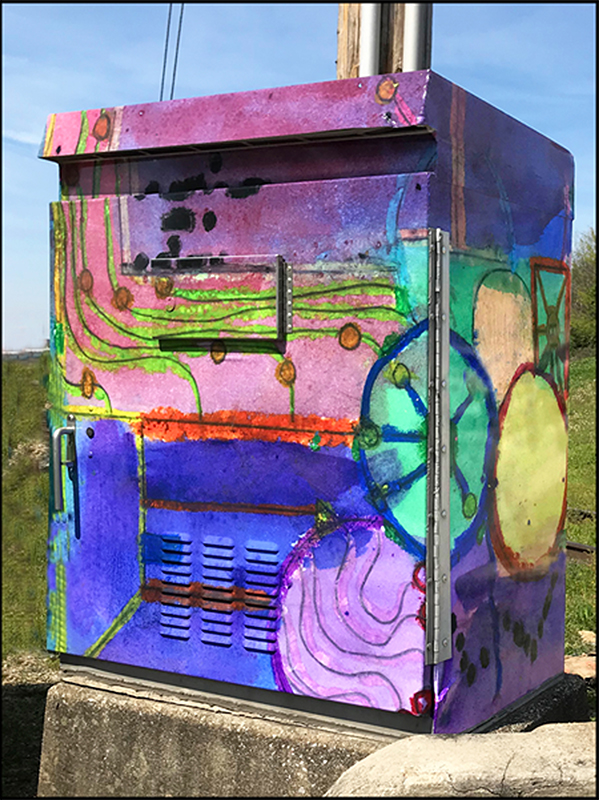 2018 six vinyl wrapped traffic cabinets
Site: A series of six in East Chattanooga
Artists: Jade Sharp, Xavier Wood, Daisha Draper, Kensha Moore, Sabrina Eldridge, Sarah Bargerstock, Nathaniel (Cody) Hutchinson
Partners: City of Chattanooga, Public Art Chattanooga, Chattanooga Department of Transportation, Orchard Knob Middle School, Brainerd,Howard, and Hixon High School, Community Foundation of Greater Chattanooga, Hand Foundation, Hazel Montague Hutcheson Foundation
Description: One-hundred and thirty students from Hamilton County Schools created designs for traffic cabinets in East Chattanooga. Informed in basic knowledge of circuitry and the patterns of electrical behavior, students used electrical "paths" as metaphors to explore how advocacy and citizen participation can impact societal issues. The resulting designs feature a completed "circuit", a symbol of student actions and the resulting consequences. Six designs were selected to wrap traffic cabinets and were also painted as larger murals by the teens. These paintings now hang in the Family Justice Center and the Chattanooga Public Library.
Life Energy was funded in part by Community Foundation of Greater Chattanooga, the Hand Foundation and Hazel Montague Hutcheson Foundations.
Download the Otocast app to learn more about the artwork from the artists.